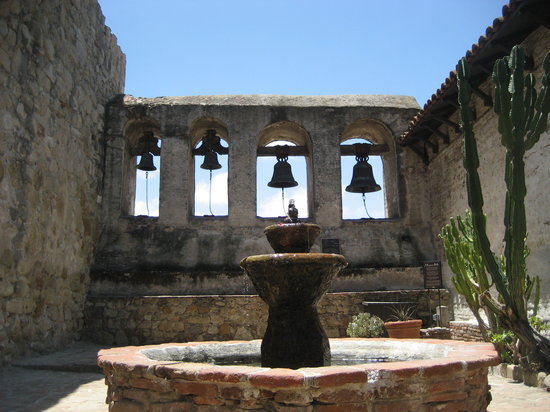 Mission San Juan Capistrano
55 miles to Los Angeles Convention Center
The ruins of Mission San Juan Capistrano are located in San Juan Capistrano in Southern California. Its history has been handed down through tales from its previous residents and present visitors. It is a place for inspiration, a place of cultural, historical and religious significance. Mission San Juan Capistrano is named after Giovanni de Capistrano, a 15th-century theologian and it is home to a chapel built in 1782, said to be the oldest functioning building in California.
Years later, a church complex was built northwest of the mission compound. Today, the Mission San Juan Capistrano displays historic and religious artifacts, 18th-20th century art, and has an illustrative room committed to Native American art. The Mission features a permanent selection of artifacts belonging to the priests who lived there in the 18th century, underscoring the historical meaning of the mission system and the role of the priests in establishing what became the state of California.
The Mission's extended museum selection includes paintings ranging in date from the 18th to the 20th centuries. The paintings tell the story of California and its mission process.
In 2015, the Heritage Tourism Association was created to provide the Mission's 300,000 yearly guests with information about the history and culture of the city's historic district.
Split up your visit of Mission San Juan Capistrano with dinner. There are several fine dining establishments in the downtown area. Most are within walking distance of the Mission. Or split your visit with a tour the Los Rios Historic District, see the new retablo in the Mission Basilica, or enjoy the shops that are nearby .
The Return of the Swallows
Every March 19th at dawn, swallows arrive at San Juan Capistrano and begin to build their mud nests, which are line the ruins of the Great Stone Church of San Juan Capistrano. After spending the summer within the walls of the Old Mission, the swallows take off once more, and they depart after circling the Mission on October 23rd. Every year, people travel from all around the country to witness this event.
Mission San Juan Capistrano is 58 miles to Los Angeles International Airport and 50 miles to Port of Los Angeles.