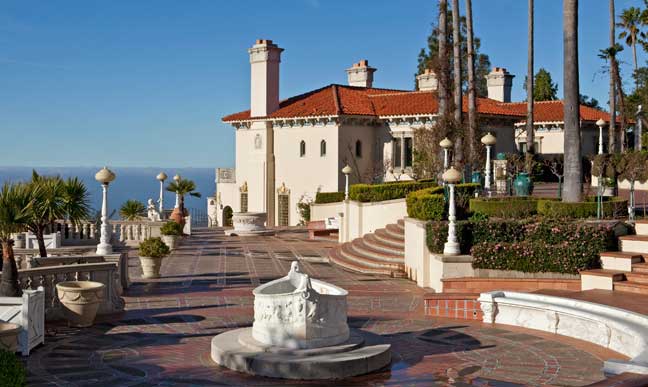 Hearst Castle
3.5 hours to Los Angeles Convention Center
A National Historic Landmark and California Historical Landmark mansion, Hearst Castle is located on the central coast of California. It became a California State Park in 1954 and it opened its doors to the public in 1958. Since that time, it has operated as the Hearst San Simeon State Historical Monument. It joined the National Register of Historic Places on June 22, 1972 and became a United States National Historic Landmark on May 11, 1976. It contains a comprehensive collection of art and antiques that is available for public tours. Even though it is far from any urban location, the area continues to draw millions of guests each year.
Hearst Castle was built as a home for the late newspaper magnate William Randolph Hearst. Invitations to Hearst Castle were highly sought after in the early 1900's, and the residence saw such notables as Charlie Chaplin, the Marx Brothers, Cary Grant, Charles Lindbergh, and Greta Garbo. An important condition of the Hearst donation of the estate was that the Hearst family would be allowed to use it whenever they wanted.
The total square footage of all the buildings on the estate exceeds 90,000 square feet. The area of Casa Grande, the "main house", is 60,645 square feet. A feature of the estate is the outdoor Neptune Pool, located near the edge of the hill, which offers an incredible view of the mountains, the ocean and the main house.
Hearst Castle inspired the "Xanadu" mansion of the 1941 Orson Welles film Citizen Kane, a fictionalization of William Randolph Hearst's career. However, it was not used as a location for the film.
Visit Hearst Castle to see the beauty of this historical gem with a guided Hearst Castle tour. You can purchase tickets at the Visitor Center upon arrival. Tour reservations are strongly advised.



Hearst Castle is 4 hours to Los Angeles International Airport and 4.5 hours to Port of Los Angeles.
Admission
Grand Rooms Tour, Adults: $25.00, Children: $12.00
Upstairs Suites Tour, Adults: $25.00, Children: $12.00
Cottages & Kitchen Tour: Adults: $25.00, Children: $12.00
Evening Tour, Adults: $36.00, Children: $18.00