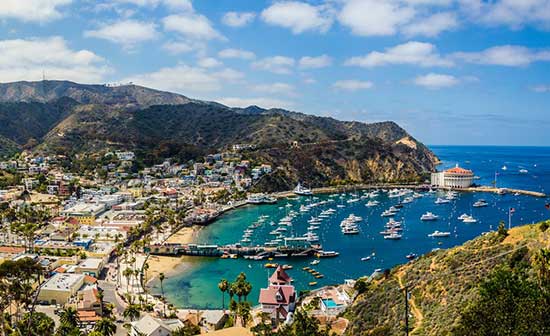 Catalina Island
35 minutes by car from Long Beach + 1 hour by ferry to Los Angeles Convention Center
Also known as Santa Catalina, or just plain Catalina, Catalina Island lies off the coast of the state of California in the Gulf of Santa Catalina. Located about 22 miles south-southwest of Los Angeles, California, the island is 22 miles long and 8 miles across. Avalon, an incorporated city on the island, is the southernmost city in Los Angeles County. In the 2010, the city's registered population was 3,728. Avalon's climate is mild, with warm temperatures throughout the year.
Catalina Island is a favorite getaway spot for Southern California residents. There are many things to do there. You can tour the reefs and shipwrecks of the island on a glass-bottom boat, or you can snorkel and scuba dive. Popular diving areas are Lover's Cove, just east of Avalon, and Descanso Beach, west of the Casino. There are flying fish in the area, and bright orange Garibaldi. Parasailing is also available. There are jeep and bus tours of the interior of the island. The Catalina Island Visitor Center offers services to assist tourists and other visitors.
The Catalina Casino has been an important part of Catalina Island since it opened more than eighty years ago. The enormous twelve-story building is divided into a grand ballroom and movie theatre. You can see the Casino from its prominent location at the edge of Avalon Bay. The name is derived from the Italian language, meaning "place to gather." There is no gambling here.
Transportation to and from Catalina is primarily provided by passenger ferries. The round trip from Orange County in Newport Beach and Dana Point takes approximately one hour, as well as from Los Angeles County in Long Beach and San Pedro. Also available are helicopter rides from Long Beach or San Pedro. Many cruise lines have also graced the Catalina ports since the 1990s, with Royal Caribbean, Princess Cruises, and Carnival Cruise Lines making it a regular on their cruises to Baja.
Catalina Airport (AVX), is located 7 miles northwest of Avalon.
Catalina Island is primarily a resort. Most of the oceanfront is pretty much focused on a tourism-oriented marketplace. Other parts of the island on the basin are made up primarily of small structures and multi-level buildings in traditional architectural styles. About 1 million people visit Catalina every year, and cruise ships visit frequently as well.
Catalina Island is 22 minutes by car from Long Beach + 1 hour by ferry to Los Angeles International Airport and 32 minutes by car +1 hour by ferry to Port of Los Angeles.