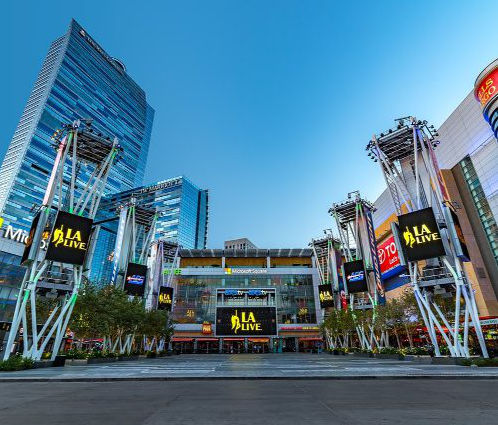 L.A. LIVE
L.A. LIVE is an entertainment complex in the South Park District of Downtown Los Angeles, California. It is adjacent to Staples Center and Los Angeles Convention Center. L.A. LIVE is the leading entertainment district in Los Angeles offering six live entertainment venues, a fourteen screen cinema, the GRAMMY Museum, and twenty restaurants. It's the host of the GRAMMYs, EMMYs, American Music Awards, ESPYs, and a year's worth of red carpet premieres.
The campus features sports and music venues, night clubs, restaurants, a bowling alley, museum and movie theaters. L.A. LIVE is the premier destination for live entertainment in Downtown Los Angeles. Find the best Happy Hours for that after work drink at L.A.LIVE. Catch an $8 movie at Regal Cinemas L.A. LIVE every Tuesday. Catch a concert, dine in elegance at one of the many 4-star restaurants. Or just stroll and discover all that L.A. LIVE has to offer. Best of all it's just a few steps from the Los Angeles Convention Center.
There is no other place like L.A. LIVE!