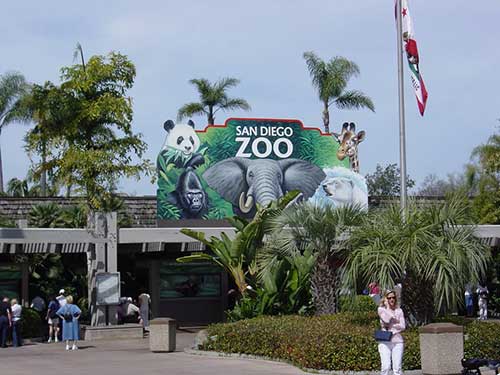 San Diego Zoo
122 miles to Los Angeles Convention Center
First to produce the concept of open-air, cage-less displays, the San Diego Zoo in Balboa Park, San Diego, California is currently housing more than 3,700 animals of more than 650 species and subspecies. It is one of the few zoos in the world that houses and effectively breeds the giant panda. The new Koalafornia Adventure exhibit, which provides a new Australian animal experience, was added in 2013. The 100-acre Zoo also has a abundant botanical collection boasting more than 700,000 exotic plants.
Take the guided tour bus that travels  seventy-five percent of the park. An elevated gondola lift called the Skyfari offers an aerial view. You'll see many different animals that can be found in the wild, along with native plant life. See the exhibits such as an African rain forest with gorillas or the Arctic taiga and tundra with polar bears. This zoo also has some of the largest free-flight aviaries anywhere.
The San Diego Zoo also operates the San Diego Zoo Safari Park which displays animals in a more intensive environment. Here you'll find more than 3,000 animals representing more than 300 species. The park has an extensive botanical collection featuring 3,500 species and 1.75 million specimens. Animals are often traded between the two locations, as well as between San Diego Zoo and other zoos worldwide.
The zoo also keeps an arboretum, with a rare plant collection in addition to a comprehensive collection of reptiles, birds, and mammals. It includes more than 700,000 unique plants.
The San Diego Zoo is one in only four zoos in the U.S. that features giant pandas in public view. The world's only albino koala was at the San Diego Zoo. Outside of Australia, the Zoo has the largest number of koalas.
A colony of African penguins arrived for the first time in the zoo since 1979, but they will be transported to Africa Rocks when it opens sometime in 2017.
The San Diego Zoo Global, its parent organization, is one of the largest zoological membership associations in the world.
The San Diego Zoo is 124 miles to Los Angeles International Airport and 117 miles to Port of Los Angeles.