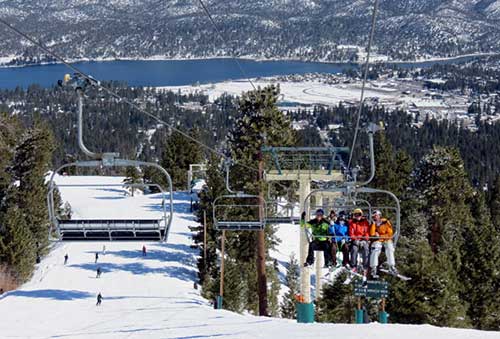 Big Bear Lake
2.2 hours to Los Angeles Convention Center
Big Bear Lake is located in the San Bernardino Mountains alongside the southern shore of Big Bear Lake. It is surrounded by the San Bernardino National Forest in San Bernardino County. It is west of Big Bear City. Approximately 21,000 people permanently reside in Big Bear Lake.
Big Bear Lake is Southern California's largest recreation lake. Oak and Pine forests thrive here, and the area is a natural habitat for thirty wintering bald eagles. Additionally, there are 29 species of rare plants. In the summer months, the main recreational activities are fishing, horseback riding, hiking, and mountain biking. Many trails in varying degrees of difficulty are in the area. In the winter, Big Bear becomes a skiing and snowboarding getaway for Southern California. The two ski resorts, Snow Summit and Bear Mountain, are always busy in the winter months. 
Big Bear is home to one of the nation's only alpine solar observatories. The city also has a public zoo, 7 public campgrounds, a golf course, fine restaurants, shopping and entertainment. Big Bear's airport is open 24 hours seven days a week, and it is is equipped for night landings.
Because of its high elevation, Big Bear Lake receives plenty of snow in winter. Snowfall averages 72 inches per season. Up to 100 inches can accumulate on the ridges around the the lake. More than 300 days of sunshine grace Big Bear Lake each year. The temperature in summer averages around 80 degrees during the day and 45 degrees at night. Winter temperatures are in the low 40's during the day, and mid 20's at night.
The annual Oktoberfest has been held at Big Bear Lake since 1970 and the Big Bear Lake International Film Festival has been held at Big Bear Lake since 1999.
Big Bear Lake is 2 hours from Los Angeles International Airport and 2.3 miles from Port of Los Angeles.