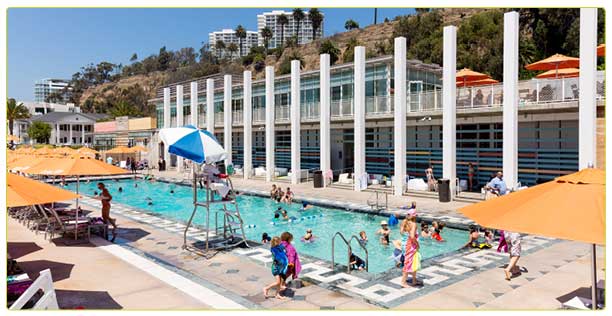 Annenberg Community Beach House
15 miles to Los Angeles Convention Center
Located in beautiful Santa Monica State Beach, the Annenberg Community Beach House is five acres of beachfront property serving as a beach facility for the general public. It was built by William Randolph Hearst for Marion Davies.  As the years passed, the Beach House evolved and became an luxurious private residence in the 1920s.
Celebrities of the day flocked to the Beach House on Santa Monica's Gold Coast, among them Louis B. Mayer, Charlie Chaplin, and Greta Garbo.
The property was sold and converted into a beautiful hotel along with the Sand & Sea Club, an exclusive beach club. The main structure was later demolished, but the popular Sand & Sea Club continued on.
In 1959, The State of California purchased the property and  continued to operate it as the Sand & Sea Club. In the 1990s, the City of Santa Monica ran it, until 1994 when the Northridge Earthquake damaged all of the buildings on site.
When the City struggled to secure funding for renovations, the Annenberg Foundation offered to help and donated a $27.5 million grant for the site's repairs.
In 2009, the mansion's pool was renovated and it opened to the public for a fee. The mansion's original guest house still stands and it is used for events. It includes a pool house, a children's play area, public restrooms, beach rentals, and a cafe.
Today, the Beach House is open to the public every day from 8:30 am to 8:30 pm during the summer, and the pool is open from 10 am to 6 pm.
In general, there is no cost to use the facility. Guests only pay for daily pool passes, parking and for beach volleyball and beach tennis court time.
Pool, parking and other passes can be purchased online three days in advance starting at 6 am. Weekends are sold out early. Walk ins may be available but be prepared to wait.
Annenberg Community Beach House is 12 miles to Los Angeles International Airport and 32 miles to Port of Los Angeles.