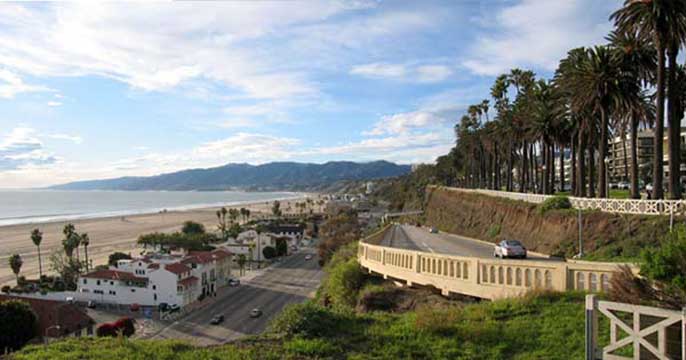 Santa Monica State Beach
14 miles to Los Angeles Convention Center
The north portion of Santa Monica State Beach includes a broad sandy shore that stretches north from the Santa Monica Pier to Will Rogers State Beach. There are many parking lots, volleyball courts and an extended bike paths for bikers and skaters to enjoy.
The south portion of Santa Monica State Beach is south of the Santa Monica Pier and north of Venice Beach. It is where you'll find the Pacific Park Amusement Park, on the Santa Monica Pier. In addition, the pier is also home to the historical Looff Hippodrome Carousel and Santa Monica Pier Aquarium. Muscle Beach is right next door, and in between, there are several art galleries in Bergamot Station. You'll come across homes, parks and luxurious hotels lining the boardwalk. The International Chess Park and Carousel Park, are south of the Santa Monica Pier, along with the with the luxuriously, upscale Shutters on the Beach.
Santa Monica is one of the most beautiful cities in California, if not the world. It entices travelers wth its spectacular mountains and gorgeous beaches. This coastal city, just west of Downtown Los Angeles, keeps a perfect balance between seaside attraction and coastal sophistication. At only 8.3 square miles, it is one of the most walkable cities you'll ever visit.
In Santa Monica, you can relax at Santa Monica State Beach, shop or dine on Main Street, or visit the many museums and free galleries.
End your day with a stroll at the Third Street Prominade, where the street performers will keep you entertained or dine at one of the many fine dining establishments there.
Santa Monica State Beach is 9 miles to Los Angeles International Airport and 32 miles to Port of Los Angeles.