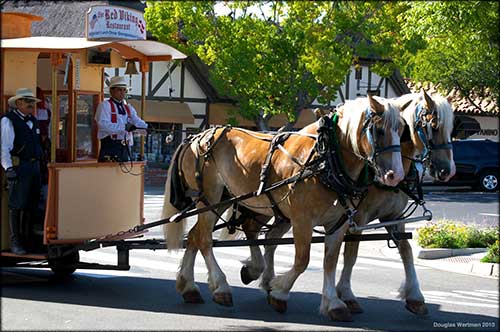 Solvang
2.1 hours to Los Angeles Convention Center
Located in the Santa Ynez Valley in Santa Barbara County, California, Solvang has an estimated population of 5,000.  Founded in 1911, it is a city founded by a group of Danes who traveled west to establish a Danish colony far away from the midwestern winters. Solvang sees the sun shine throughout the year and has clear, warm days and cool nights. 
Many restaurants, bakeries, and merchants grace the streets of Solvang, offering a taste of Denmark in California. The city has become an important California tourist attraction due to its unique architecture. Buildings in the style of Danish rural houses, entice more than one million visitors per year who come to gaze at the exterior of buildings which reflects the traditional Danish style. Visitors love the Danish windmills, the Hans Christian Andersen and the Little Mermaid statues, the half-timbered houses, the Danish church, the Round Tower as well as the sounds of Danish music and folk dancing. Also popular are the numerous eateries and pastry shops serving Danish delicacies. A replica of a 19th-century Danish streetcar will take visitors around the downtown area.
There are two museums devoted to Danish culture and to one vintage bikes: The Elverhoj Museum, The Hans Christian Andersen Museum and The Solvang Vintage Motorcycle Museum, which displays machines from the private collection of veteran motor cross and road racer Virgil Elings.
The 2004 Oscar-winning film Sideways was shot in the adjacent Santa Ynez Valley and filmed in Solvang. As a result, there has been an increase of wine-related storefronts in Solvang.
Featured as a race location on the Tour of California, Solvang has become a favorite place for bicyclists.
Solvang is 2 miles to Los Angeles International Airport and 2.2 miles to Port of Los Angeles.