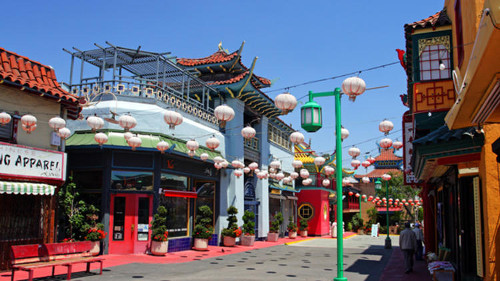 Chinatown Los Angeles
The Chinatown section of Los Angeles is small. But the list of things to do there runs long enough to fill an afternoon. While the neighborhood has the assortment of mom-and-pop markets and dim sum restaurants that you would expect, it has surprises, with historic dive bars and some of LA's most stylish galleries. So, on your next visit the Los Angeles Convention Center, take a tour of this area's attractions and discover some of the best activities, both inside and outside of the Central Plaza.
Los Angeles Chinatown's Central Plaza is one of the nation's first malls. The first modern American Chinatown, owned and planned from the ground up by Chinese, Central Plaza provides a hub for growth into the famous colorful, vibrant Chinese American community we all know today. The shops, restaurants, fortune tellers, associations and financial institutions of Old Chinatown give out a colorful appearance by day and a romantic glow by nigh. There is no place like Central Plaza in Chinatown Los Angeles. Visit a temple, an herbal shop, art galleries, antique stores to the unique treasures to be found in Chinatown.
Getting hungry?  Chinese bakeries and traditional chinese restaurants are joined by a variety of new restaurants.  We rcommend Phillipe's. It has been located on the corner of Alameda Street, at the edge of Chinatown, in the Historical District of Los Angeles since 1951, and is known as one of the creators of the French Dip sandwich. Getting there is easy. The area is better served by transit than many areas with Union Station so close by.



End your adventure through this enchanting neighborhood with a visit to the Chinese American Museum. It is located in the red-bricked historic Garnier Building, located at El Pueblo de Los Angeles Historical Monument across from downtown Los Angeles' Union Station. Just follow the hanging lanterns, south of Olvera Street, and you'll find it.